Mars bar crispy slice
A sweet-salty, chewy, caramelised treat made with melted Mars bars and topped with a thick layer of chocolate.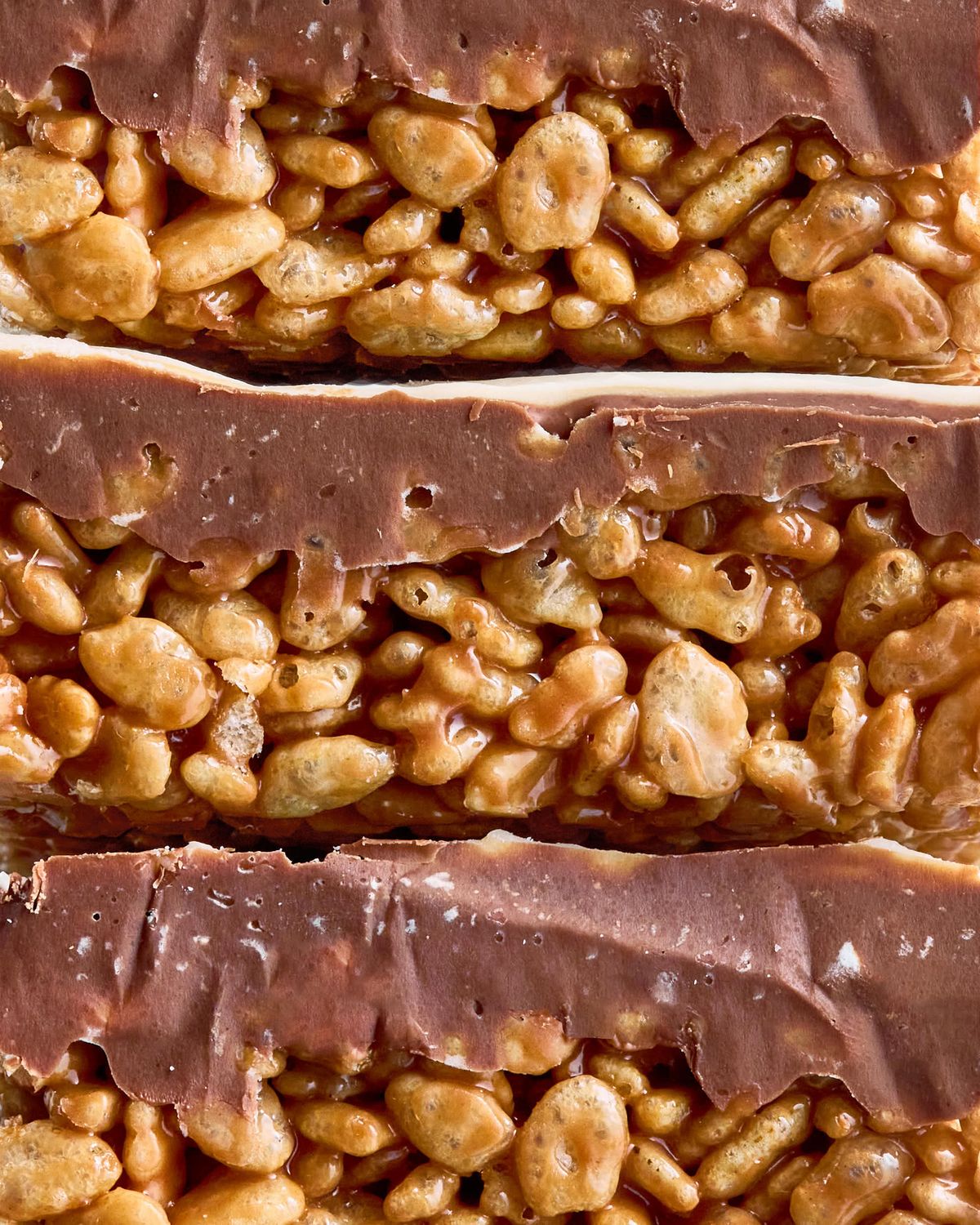 ---
This is a guest recipe from Kate Armstrong of The Turntable Café, Skipton, one of my absolute favourite places to eat.
Kate and her partner make joyful, happy food that I look forward to eating over and over again. Whether it's a towering fried egg, hash brown and halloumi bap or these sticky squares of chocolatey caramelised goodness.
I will never say no to a Mars bar crispy slice.
recipe
A sweet-salty, chewy, caramelised treat made with melted Mars bars and topped with a thick layer of chocolate.
Serves 9-16 (snack/dessert)
Prep/cook time: 30 minutes, plus 6 hours chill time
ingredients
100g unsalted butter
4 Mars bars, chopped
40g golden syrup
150g rice crispies
400g milk chocolate, finely chopped
100g white chocolate (optional), finely chopped
🔪
Technique: Golden syrup is used in many traditional British desserts and is a staple here in Yorkshire, featured in many regional sweets and desserts. In the USA, golden syrup is called 'light treacle'.
instructions
Line a 9"/23cm square tin with baking paper.
In a large pan over medium heat, melt the butter, chopped Mars bars and golden syrup together, stirring constantly, until combined.
Turn off the heat and stir through the rice crispies, season with a pinch of salt.
Press into the tin and chill for 30 minutes to set.
Once set, melt the milk chocolate and pour over.
🔪
Technique: You have two options for melting chocolate, both give great results. Either place the finely chopped chocolate in a heatproof bowl and set over a pan of barely simmering water or heat in the microwave in 30-second bursts. When the chocolate is mostly melted, poke any unmelted bits below the surface and set aside for a few minutes to melt in the residual heat before stirring until smooth.
If decorating the top, melt the white chocolate and pipe thin lines up and down the surface of the melted milk chocolate. The closer the lines are to each other, the more intricate the design will be. Drag a knife or skewer up and down the chocolate in the opposite direction to the stripes, crossing through the white chocolate lines, to create the feathered chocolate design.
Chill for at least 4-6 hours. Cut into thirds to make 9 x 8cm squares. Cut into fourths to make 16 x 6cm pieces.
recipe notes
serving ideas
Great hiking snack.
Cut up into bite-sized pieces and serve with vanilla ice cream.
Also delightful eaten straight out of the freezer – wait 5 minutes for it to soften a little and cut into pieces to spare your teeth.
storage
Leftovers can be stored in an airtight container in the fridge for up to 1 week. Suitable for freezing.
Serve at room temperature, chilled or frozen.
substitutions
Sub the golden syrup with another sugar syrup, such as corn syrup, brown rice syrup or light molasses.
food styling tips
🎨
If decorating the top with white chocolate, there are many different shapes and patterns you could choose to add interest to the top – only limited by your imagination!
---
---
---