roasted aubergine dip, yoghurt, onion, flaked almonds
Smoky, charred aubergine puréed until silky with yoghurt, caramelised onion, garlic and mint.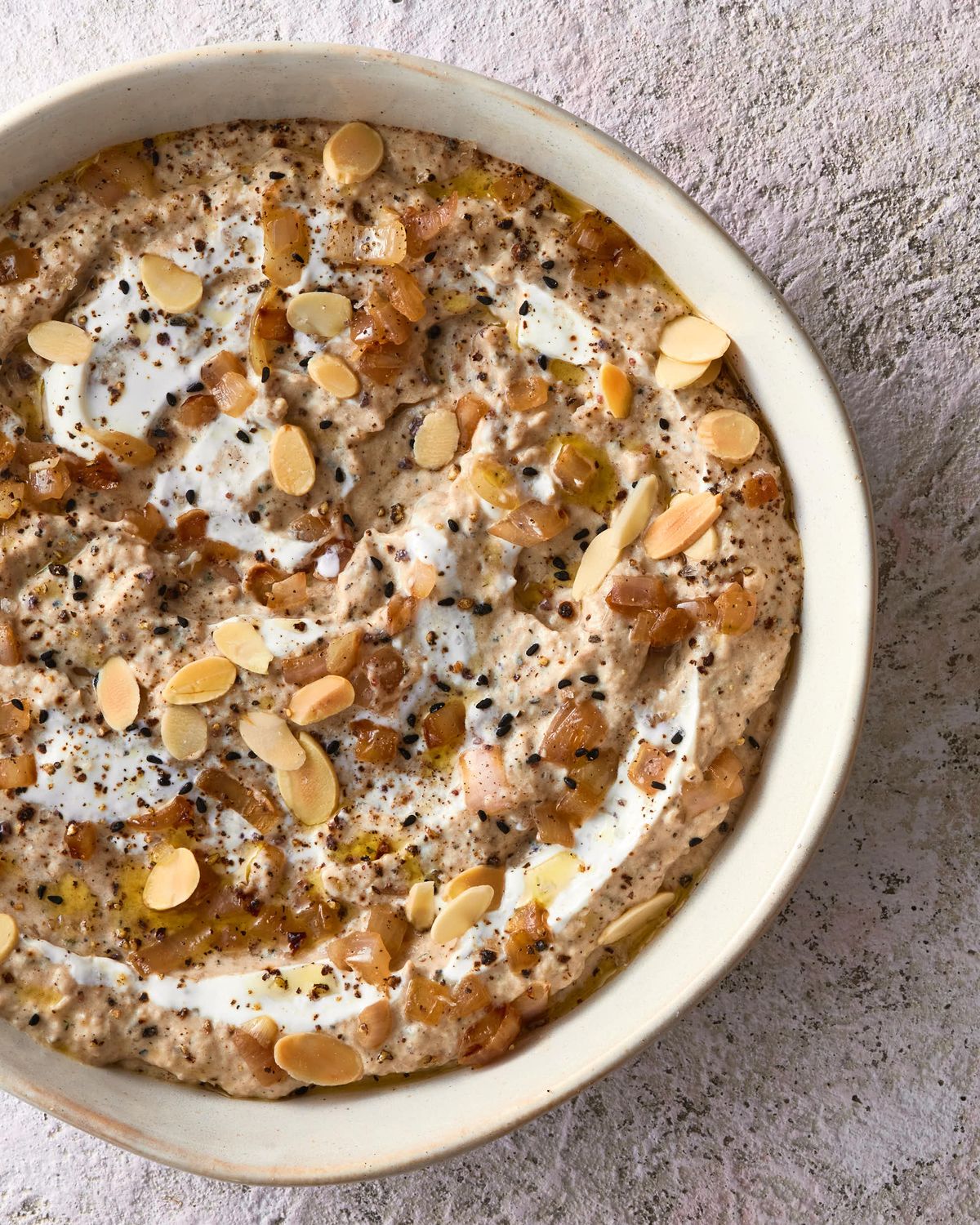 recipe
Smoky, charred aubergine puréed until silky with yoghurt, caramelised onion, garlic and mint.
Serves 4-6 (snack/side/meal component)
Prep/cook time: 30 minutes
ingredients
drizzle of olive oil
1-2 onions, finely diced
2 cloves garlic, finely sliced
2 tsp dried mint
2 aubergines
1 lemon, juice only (add zest if you fancy)
200g Greek yoghurt
flaked almonds, to garnish
nigella/kalonji seeds, to garnish
instructions
Heat a medium heavy pan over medium heat, add the oil and onion and cook for 10-15 minutes, until well softened and golden brown; reduce the heat or add a splash of water if it starts to stick and burn. Add the sliced garlic and cook for about 5 more minutes until softened, then stir through the dried mint and cook until fragrant, 1 more minute.
Meanwhile, prick the aubergines all over with a knife and arrange directly on a gas ring (no pan). Char all over, about 5 minutes on each side, until very, very tender to the point of a knife. Slice down their length and gently scoop out all the flesh with a spoon, really taking care to get all the flesh for maximum smoky flavour.
🔪
Technique: This is my absolute favourite way to cook aubergines, a game changer in my vegetable cooking. Charred directly on an open gas flame, the flesh steams inside the skin until meltingly tender, while the blackened skin imparts incredible smokiness. If you don't have a gas hob or BBQ, rub the outside of the aubergine with oil and roast at 200°C (no fan) for about 30 minutes until fully soft all the way through.
In a food processor, blend the aubergine flesh, half the lemon, onions and yoghurt (save some onions and yoghurt if you want to decorate). Season well with salt and freshly ground pepper, adding more lemon juice to taste.
Garnish with the reserved yoghurt and onion, then sprinkle with the flaked almonds and nigella/kalonji seeds. Finish with a drizzle of olive oil and little extra salt and pepper.
recipe notes
serving ideas
Serve with South Asian food or as part of a Persian-style spread.
Great as part of a vegetarian brunch plate with sliced avocado and/or a fried egg.
storage
Leftovers can be stored in an airtight container in the fridge for up to 5 days.
Not suitable for freezing – the mixture can split.
substitutions
Vegan-isable – Swap the Greek yoghurt for a vegan coconut 'yoghurt'.
Can sub with any kind of yoghurt, but most other yoghurts will result in a thinner texture.
The dried mint is a flavour from the Persian-style version of this dip (similar to kashke bademjan). If serving with South Asian-style food (similar to raita) you could use a spice or flavour reflected in your other dishes, such as toasted cumin seeds, fried curry leaves or chopped fresh coriander.
food styling tips
🎨
Making this dip look beautiful is all about layering garnishes. Hold back some of the caramelised onion and yoghurt to decorate the top and finish with a little drizzle of olive oil and a few screws of pepper. Randomly dot garnishes over the surface, rather than layering them evenly for a more interesting look.