vegetarian full English breakfast
A full English breakfast, the peak of British hangover cuisine. My vegetarian version is very flexible – change with your mood and what's in the fridge.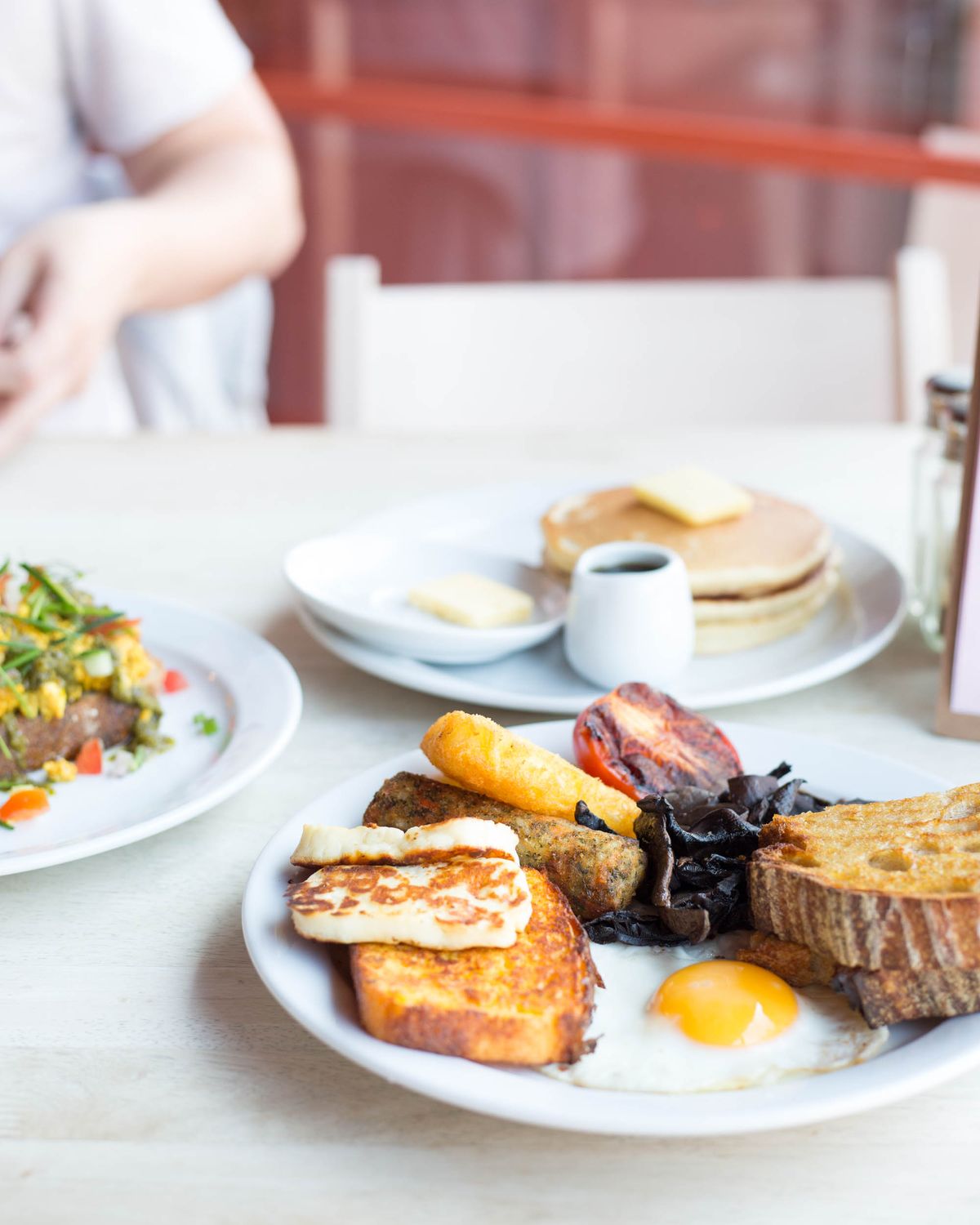 A full English breakfast, the peak of British hangover cuisine. My vegetarian version is very flexible – change with your mood or what's in the fridge.
Pick and choose from the ideas below...
For lazy weekends with those you love.
All recipes serve 4
veg
roasted tomatoes
300g cherry tomatoes
2 tbsp sherry vinegar
1 tsp dried oregano
Heat the oven to 150°C. Slice the tomatoes in half and lay on a baking sheet, cut side up. Dab a a little vinegar onto each tomato half and sprinkle over the oregano. Roast for about an hour until dried out, but still a little moist. Season with a little flaky salt and plenty of pepper.
🔪
Technique: Sherry vinegar is best to use for oven cooking as it stands the heat most effectively.
fresh avocado
1-2 avocados, sliced or diced
squeeze of lemon or lime
sprinkling of sumac, za'atar or your favourite spice
pinch of flaky sea salt
Cut the avocado to taste and top with the seasonings.
🔪
Technique: Adding an acid like citrus juice to the avocado helps stop it browning.
garlic portobello mushrooms
25g butter
1 clove garlic
4 large flat mushrooms, stems removed and finely chopped
Preheat the oven to 200°C. Mix together the butter, garlic and chopped mushroom stems, season if using unsalted butter. Arrange the mushrooms on a baking tray, gill side down and roast for 10 minutes to release some of their liquid. Tip off any liquid in the tray and turn them over. Stuff with the garlic butter and roast for a further 10-15 minutes until lightly browned.
confit vegetables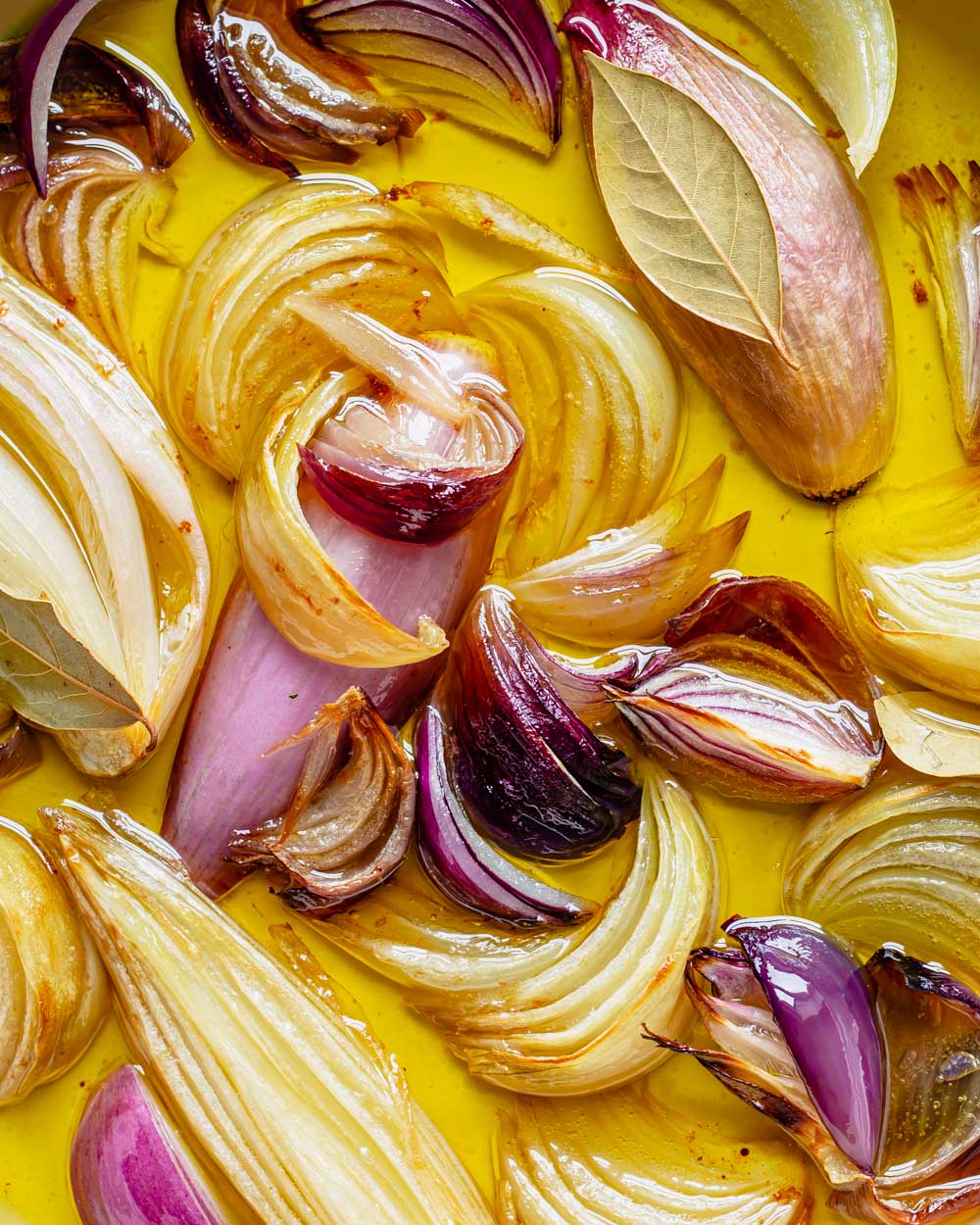 crispy corn fritters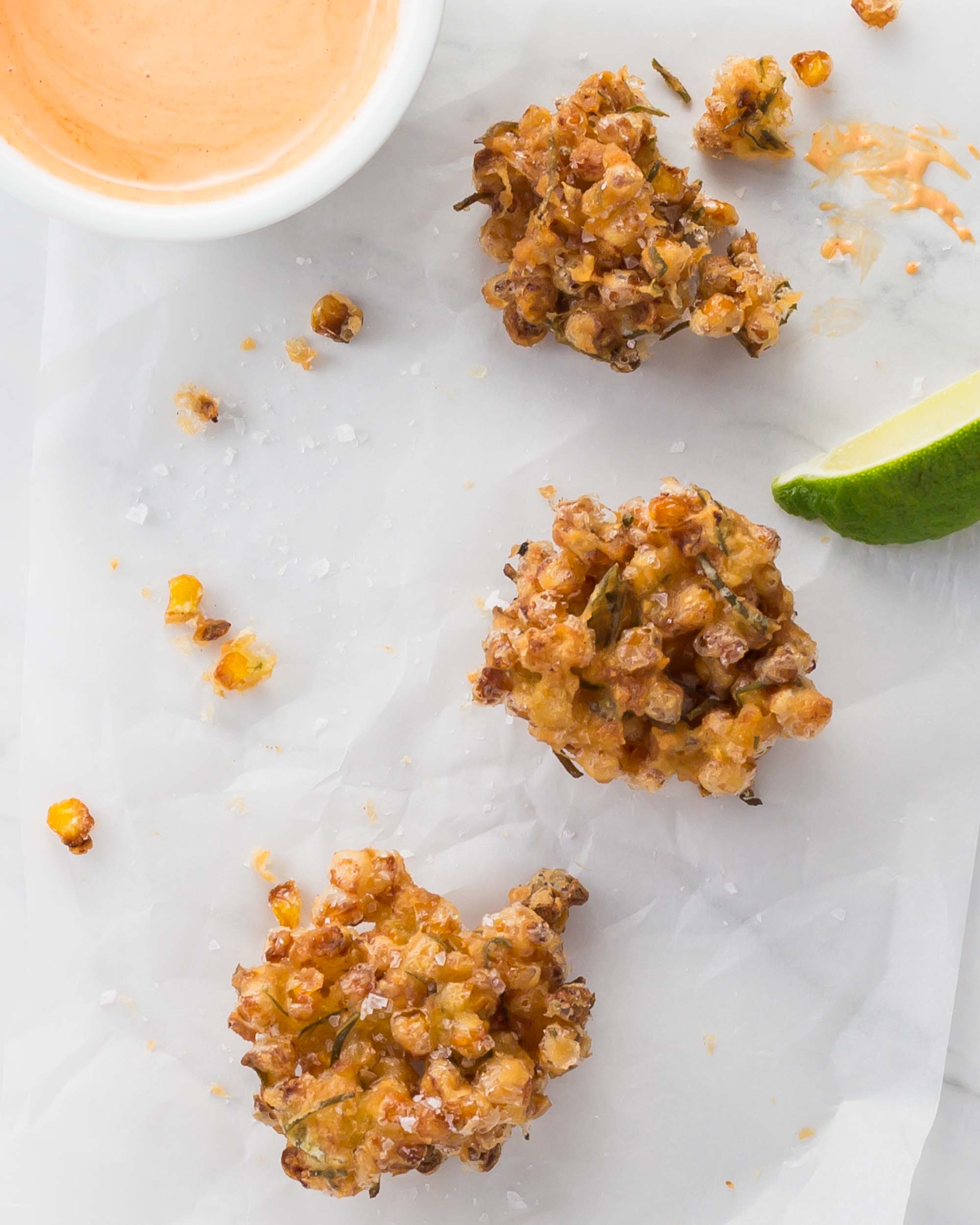 mushroom duxelles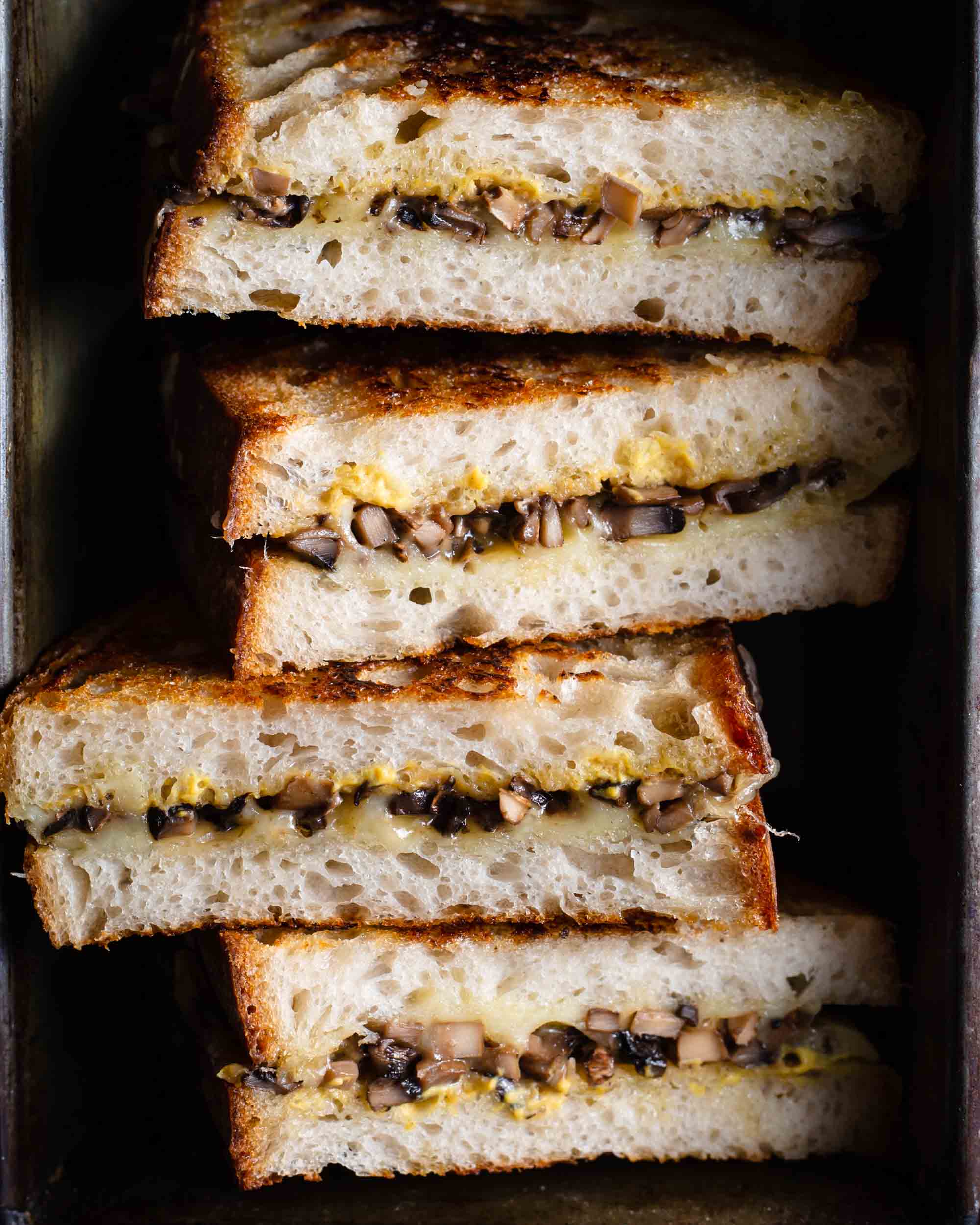 pico de gallo (fresh salsa)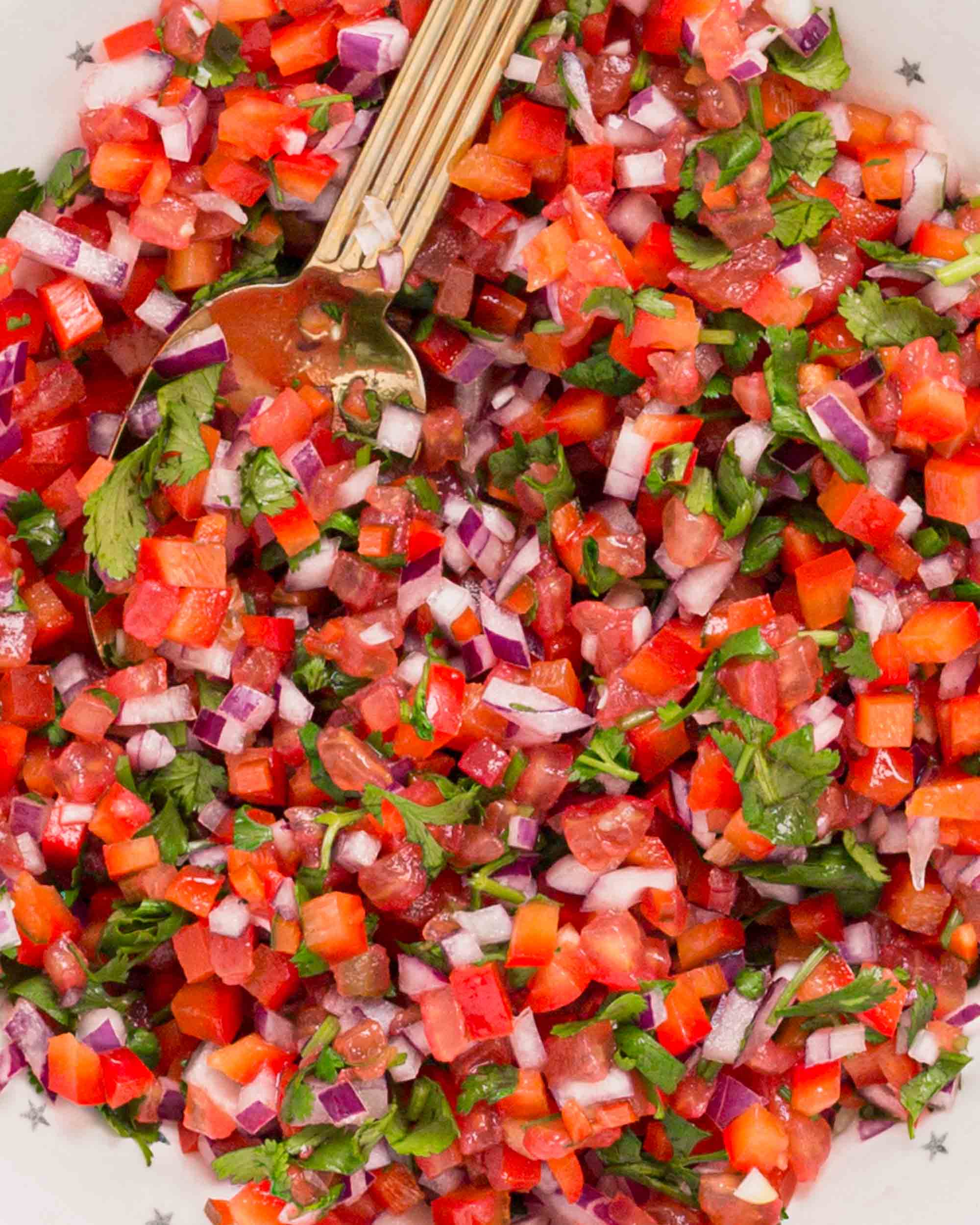 roasted aubergine purée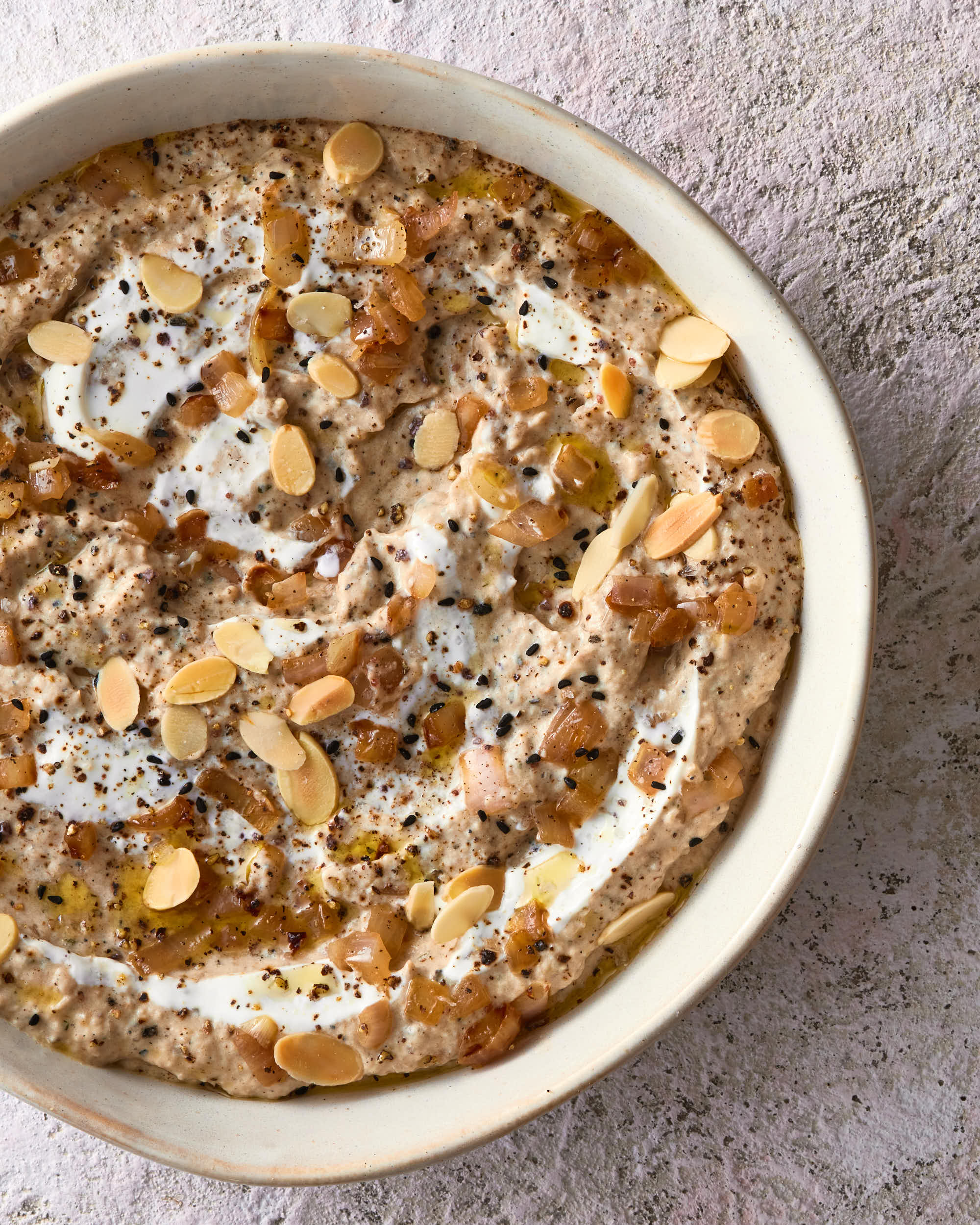 chana masala or daal
A great use for leftovers and much better than baked beans.
other ideas
Crushed guacamole with lime, smoked salt, seasonings
Garlic butter mushrooms:
chestnut / wild seasonal mix
Overnight griddled jerk mushrooms
Mushroom crackling
Creamy house hummus
Lemon-picked red onion
chilli, fresh coriander
Roasted artichokes with sage
Deep fried artichoke hearts
potato
fried slivers of potato
4 tbsp olive oil
400g/2 large potatoes, thinly sliced then diced
few leaves of fresh rosemary, sage or thyme
Heat a large, heavy frying pan over medium heat until hot, add the oil, then sprinkle over the potatoes in an even layer. Cover and cook undisturbed until a crust has formed on the bottom, about 5 minutes, then sir and repeat. When everything is nicely browned, chop the herbs and sprinkle over. Season to taste with salt and plenty of pepper.
smoky gunpowder potatoes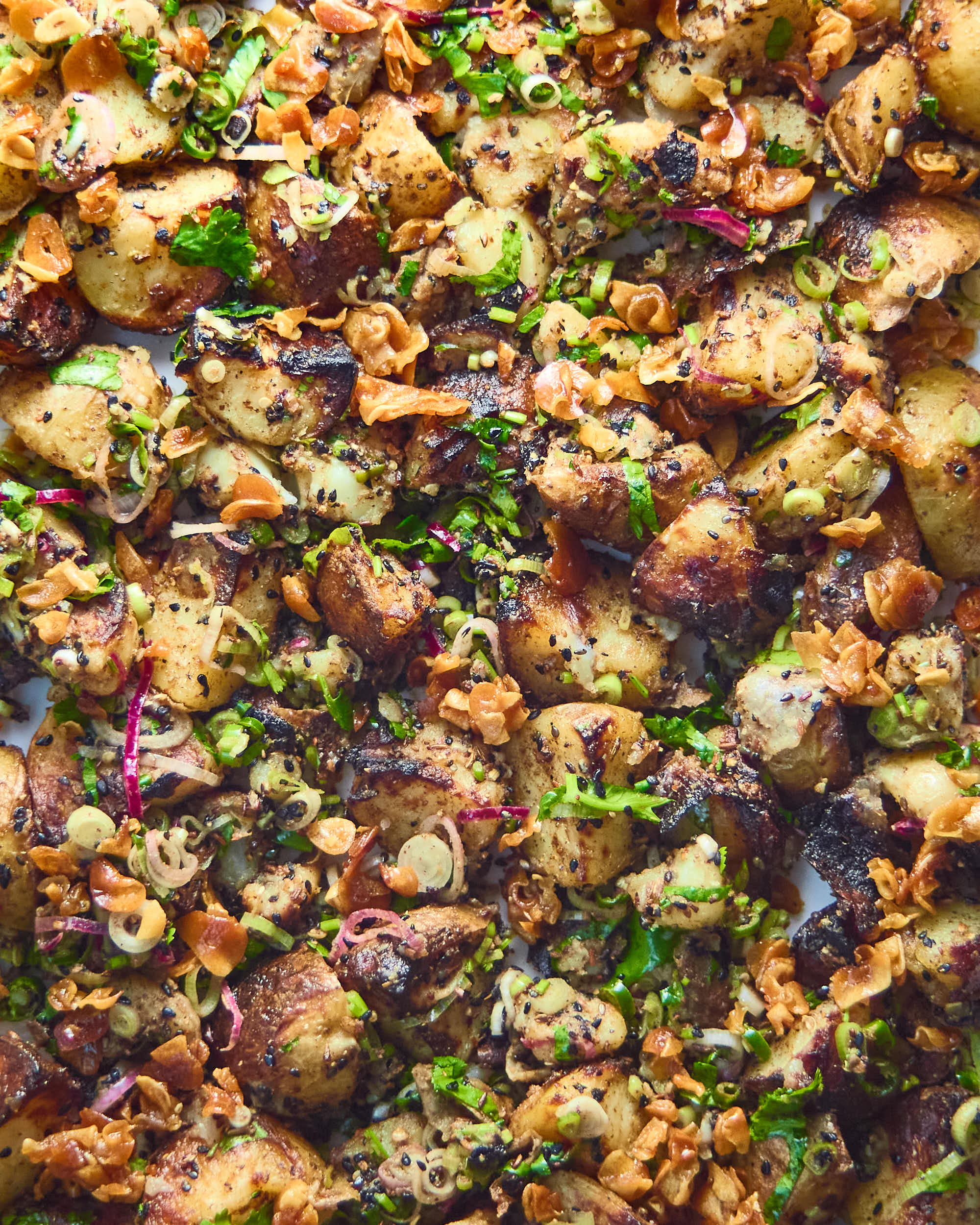 chaat roast potatoes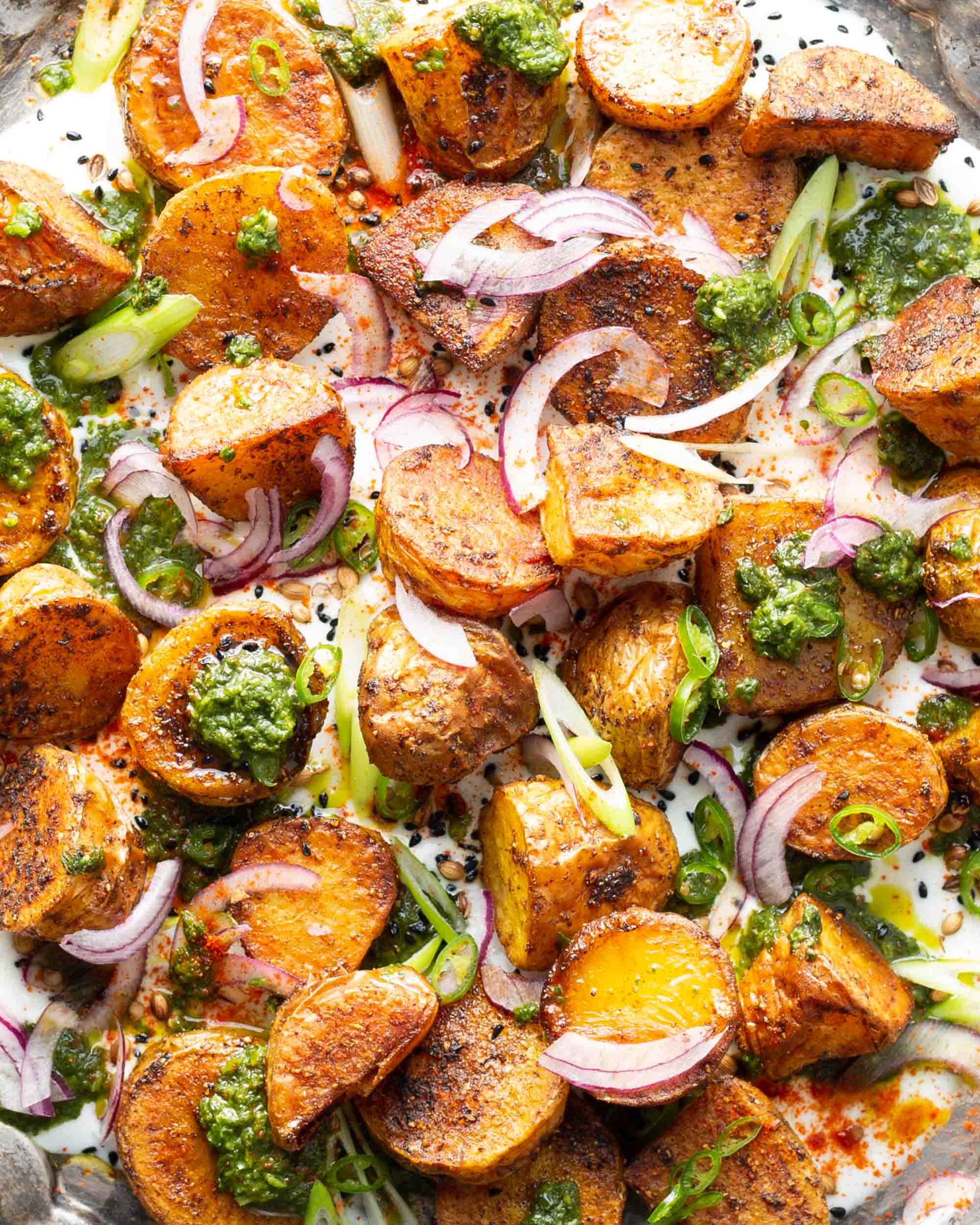 crispy roast potatoes, herb salt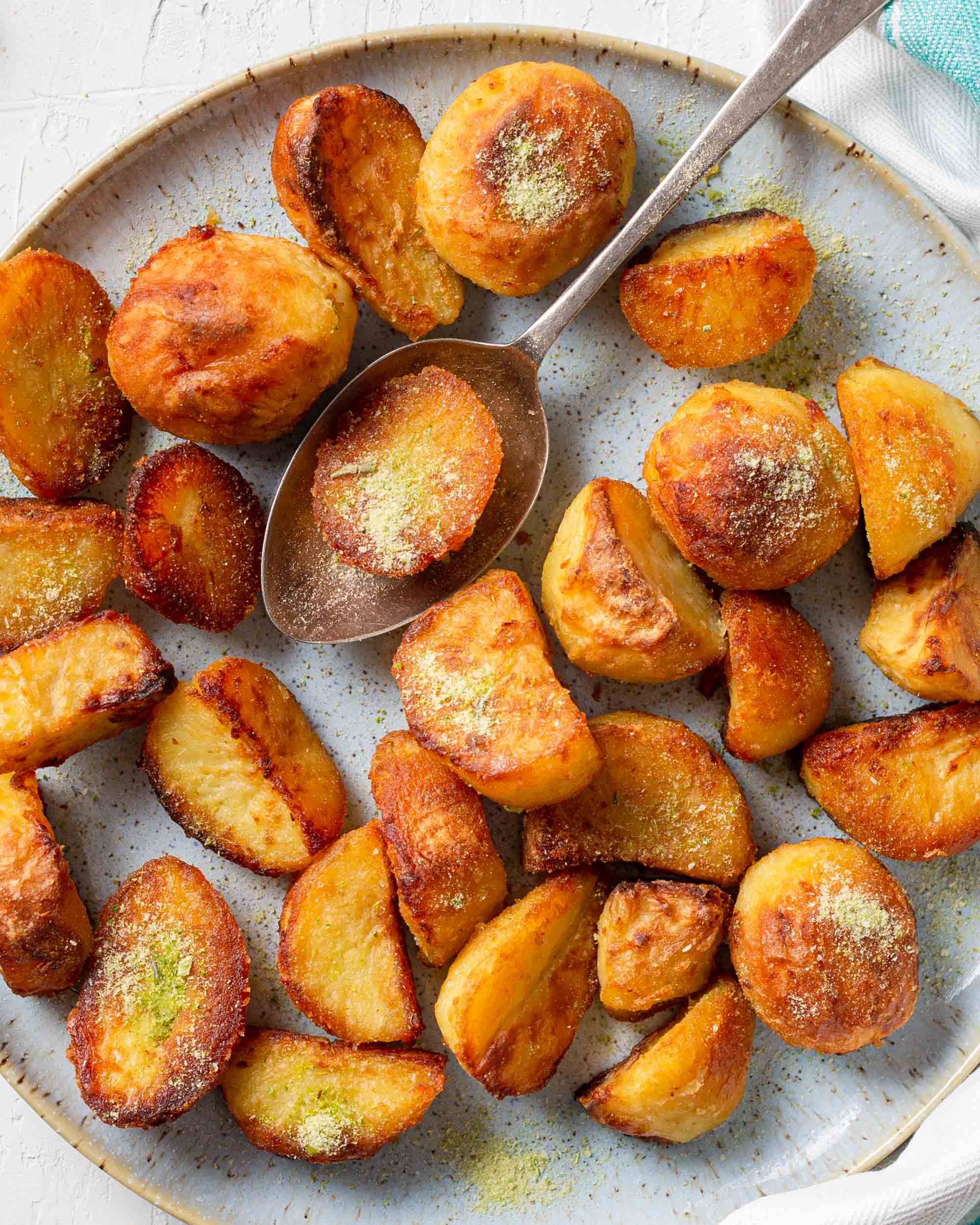 baked potato skins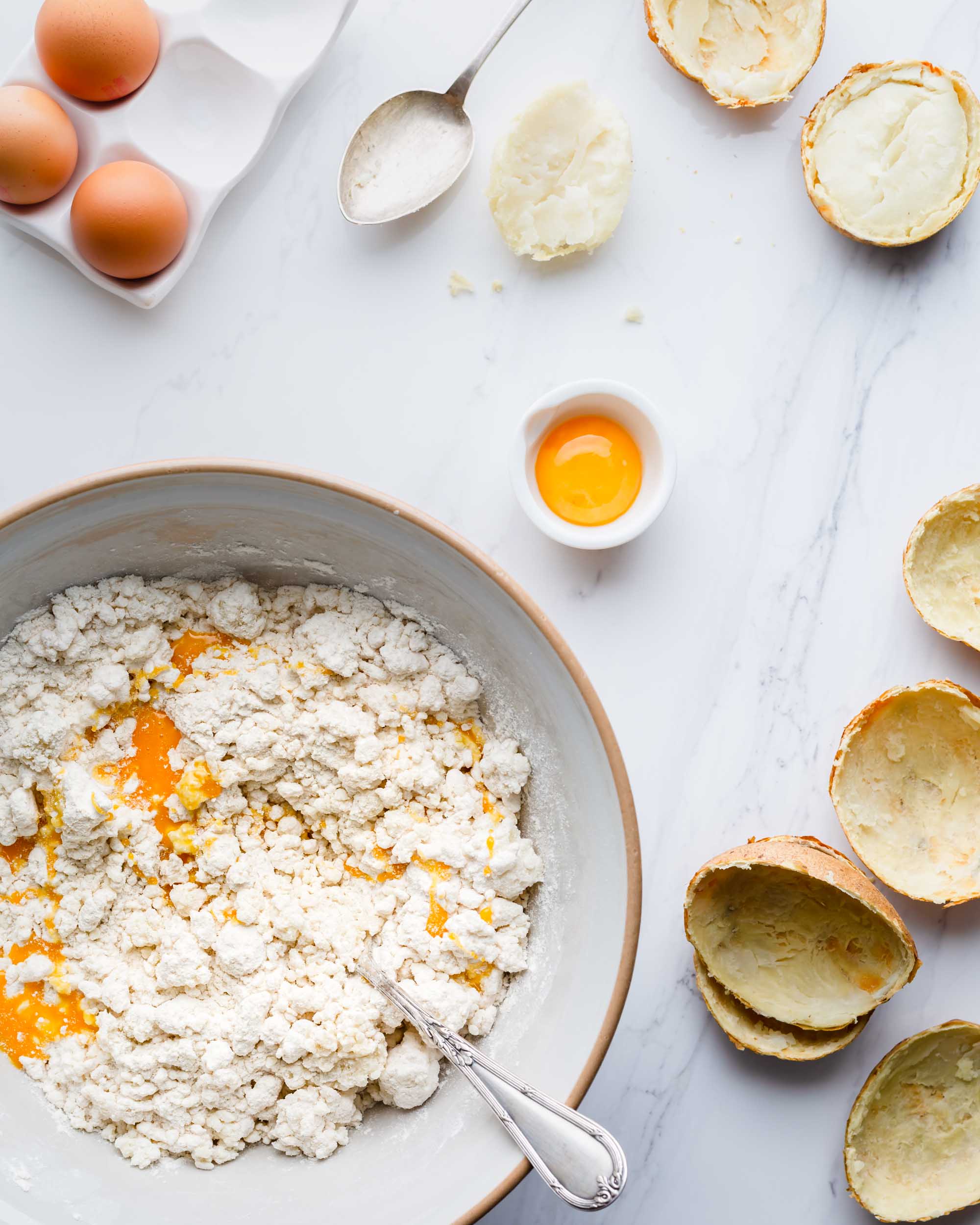 other ideas
Chaat masala fries
coriander mayo
Black sesame potatoes
sesame oil, black sesame seed coating, masala, butter
Deeply browned potato cubes
Cacio e pepe potato rosti
Thousand layer chips
Beer-battered chipsgarlic mayo

Shoestring fries
Hash nuggets
Fat scuffed chips
eggs
creamy scrambled eggs
8 eggs
2 tbsp double cream, crème fraîche or Greek yoghurt
optional fresh, soft herbs
Beat the eggs to combine and season with ½ teaspoon flaky salt. Heat a medium-large saucepan over medium heat until hot and add the butter. When the foaming subsides, add the eggs. Cook, stirring very frequently, until almost cooked to taste, taking care to scrape the bottom of the pan often to avoid sticking. Stir through the cream and serve immediately.
🔪
Technique: Adding something cold and creamy to the eggs help stop the cooking, for perfectly soft scrambled eggs.
deep-fried eggs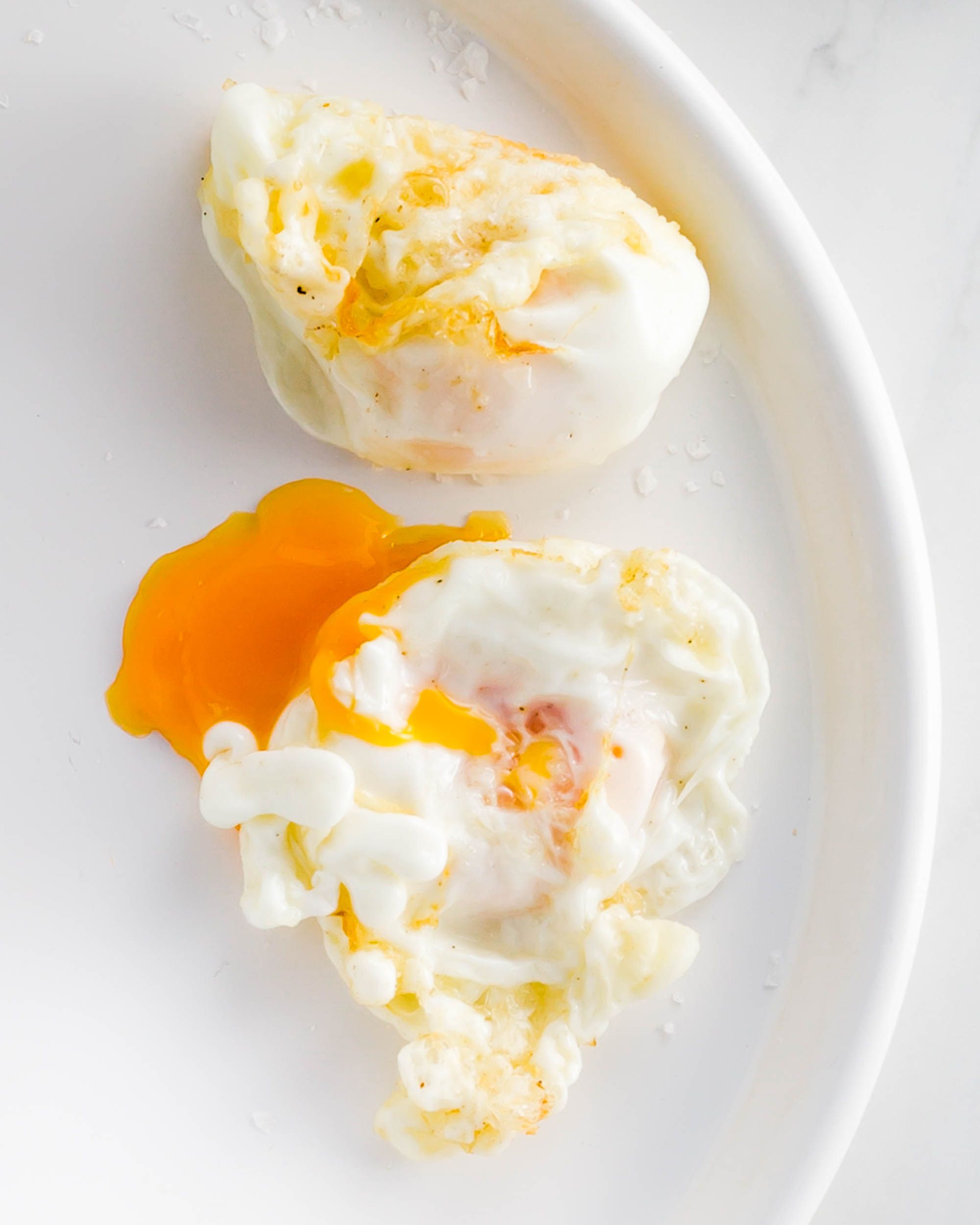 other ideas
Fried eggs with house toppings
Turmeric fried eggs, shallots, chilli
Tornado omelette
Crispy Parmesan eggs
Crispy garlic olive oil fried eggs
Indian-style omelette, tomato, onion, coriander, chilli, cheese
Tender omelette
tofu
tofu 'bacon'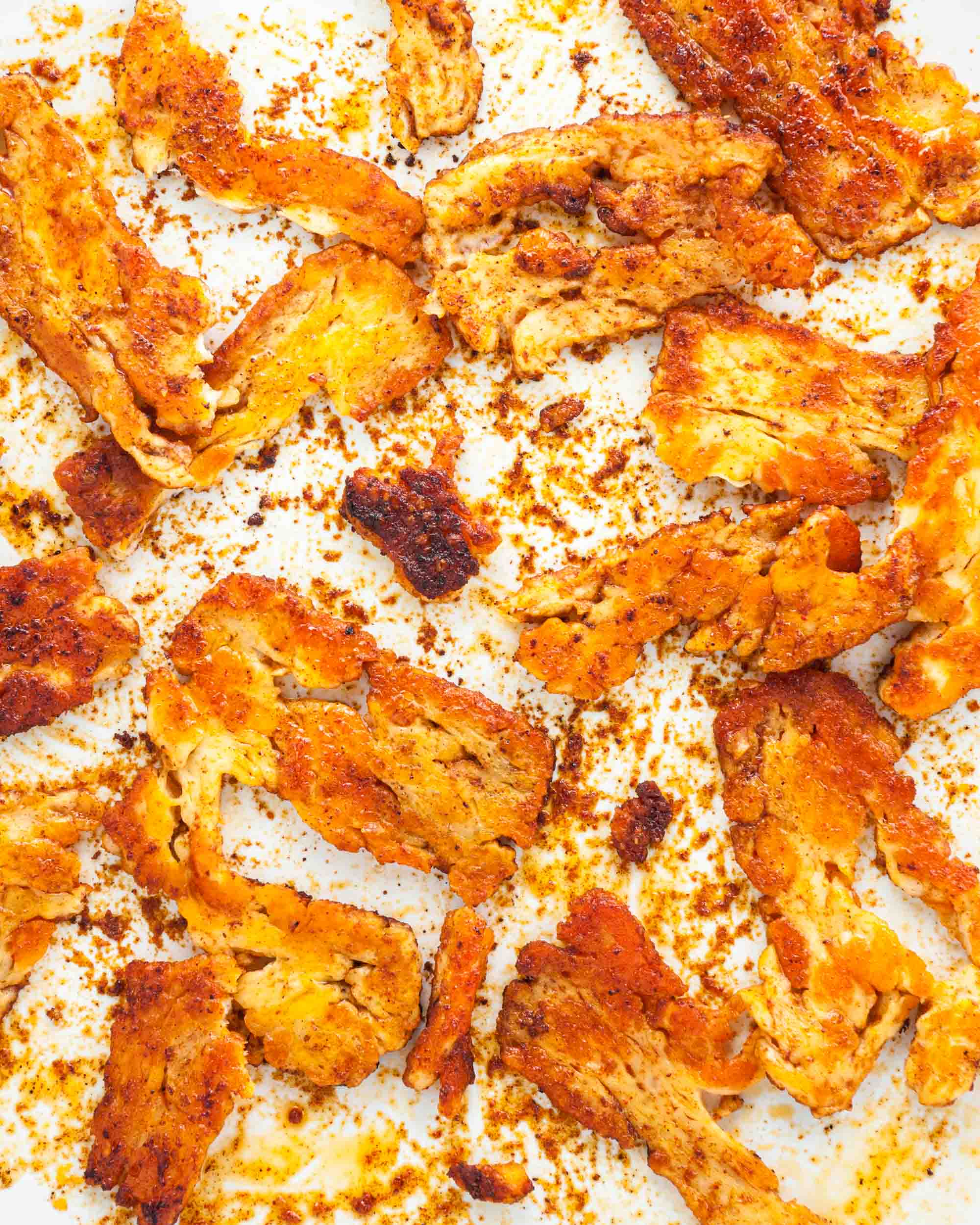 other ideas
Spicy, umami silken tofu scramble
Fat umami veg sausage, fermented vegetables, sausage spices
Overnight smoky jerk tofu
Black pepper tofu
cheese
halloumi 'bacon'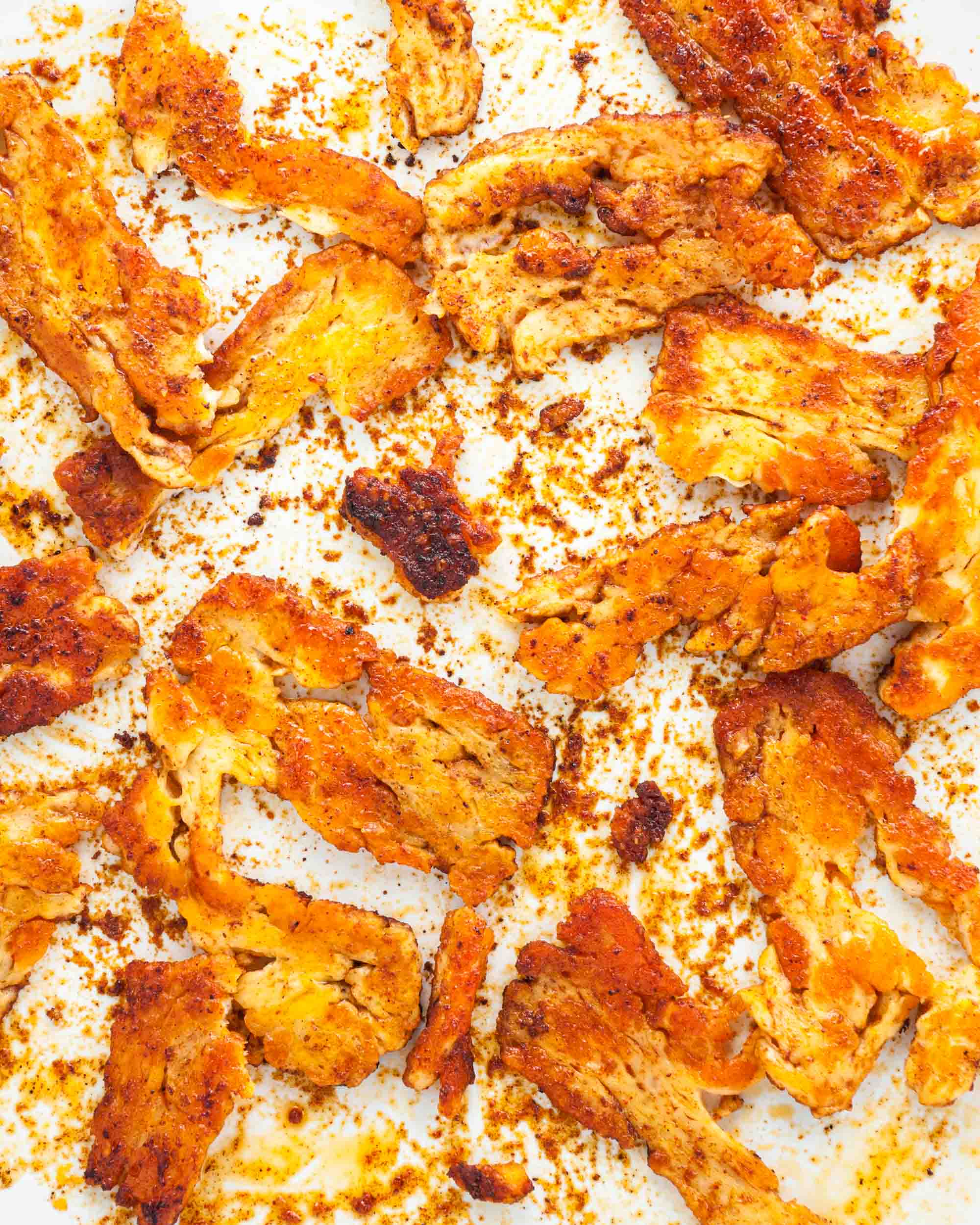 other ideas
Pan-fried sesame filo feta
Whipped feta, herbs, pistachio
Giant Parmesan crisp
Glamorgan sausage with cheese, leek, sourdough crumbs
Mini Yorkshire fondue dipping pot
Caramelised goat cheese log
Overnight smoky jerk halloumi
Whole burrata, herb oil
Raclette Anglaise, bubbling Ogleshield
bread
sourdough toast
4 thick slices sourdough bread
lots of butter
Toast or griddle and smother with butter.
other ideas
Olive oil focaccia, potato, rosemary, homemade mascarpone
Paper thin roti
Kerala paratha
Charred cheddar naan, coriander butter
Spring onion pancakes
Handmade all-butter croissant
Tomato canelés, harissa butter
Galettes de sarrasin (buckwheat crèpes)
bread + topping
cheese croissant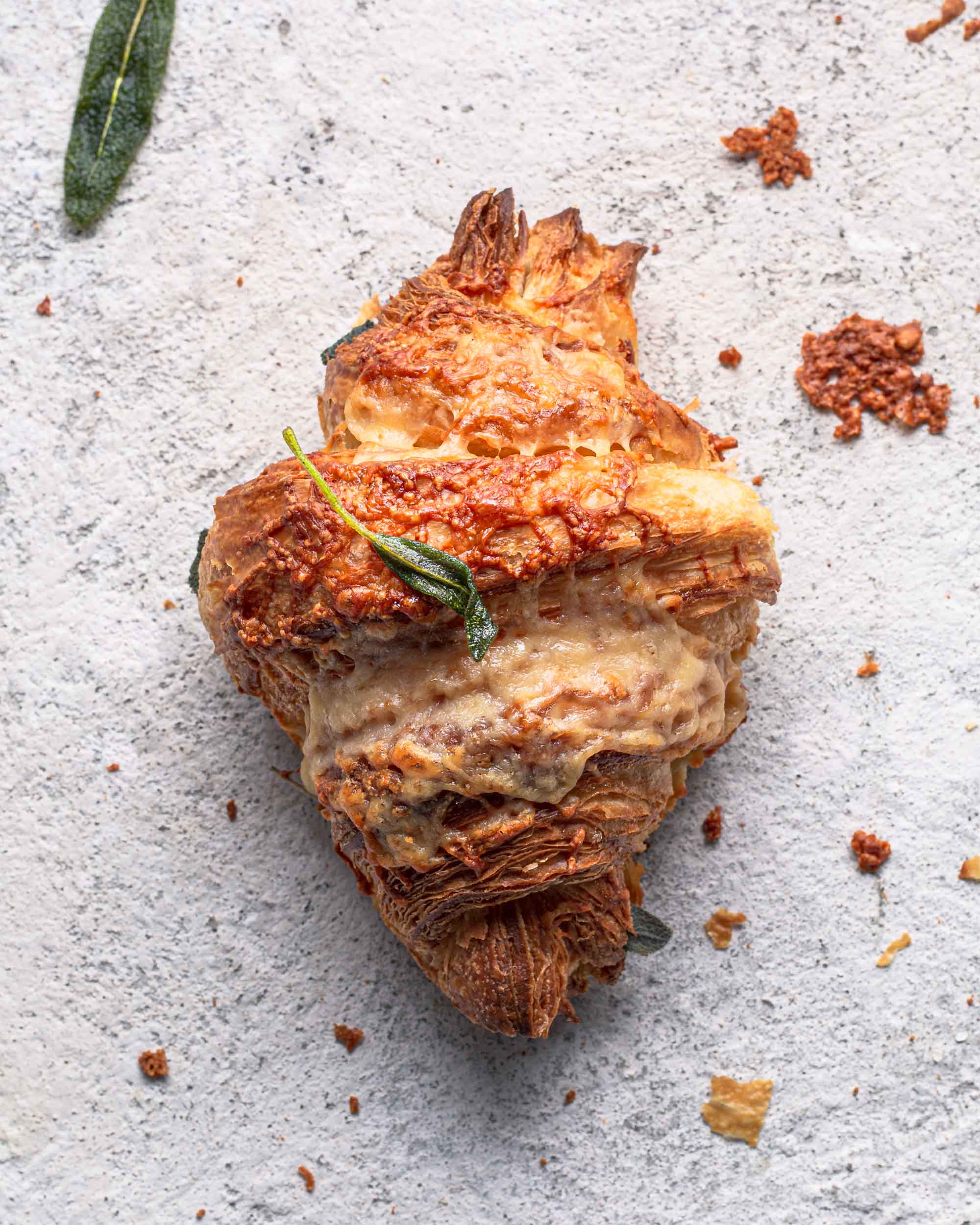 seasonal bruschetta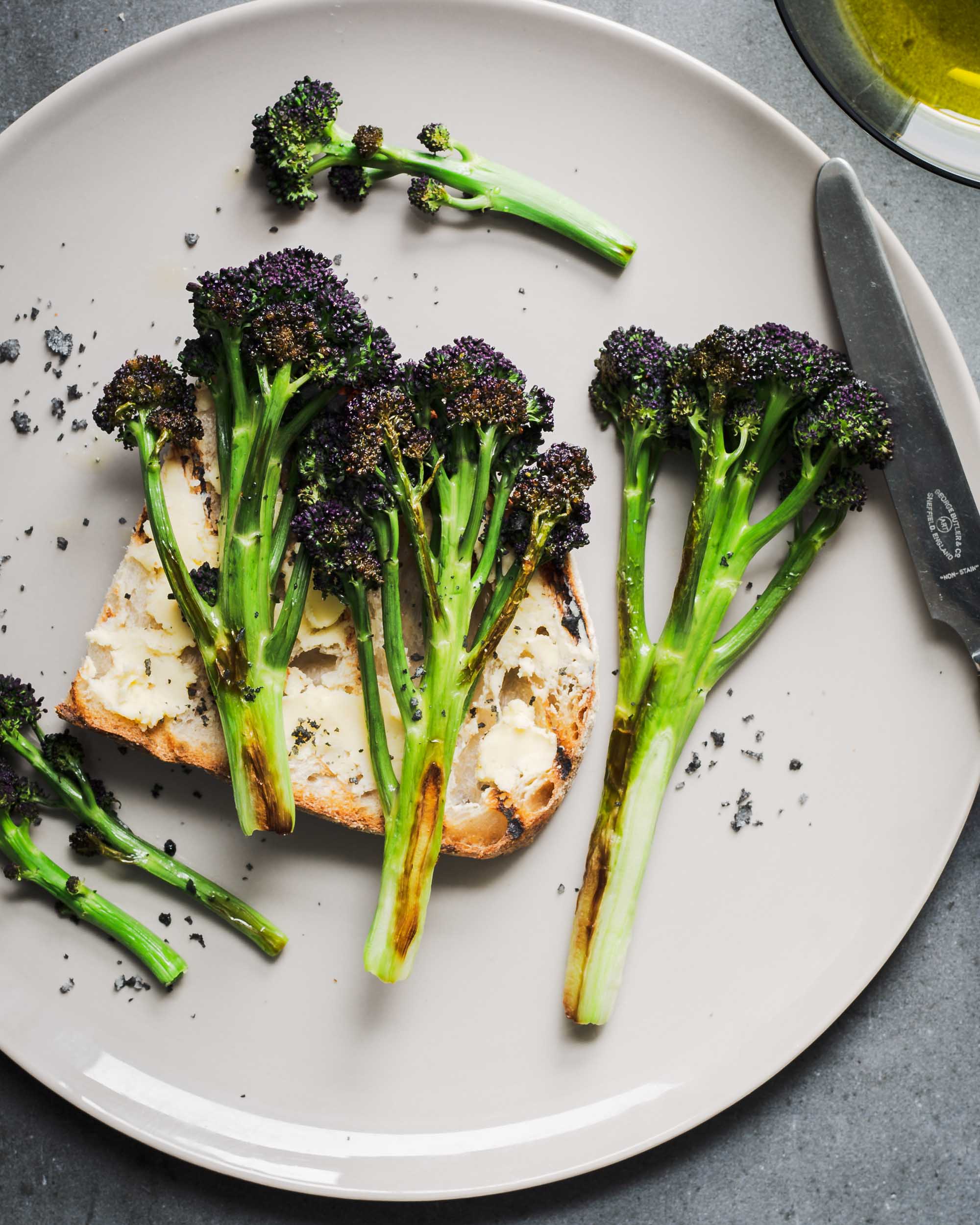 other ideas
House cheese on toast
Four-cheese dough balls, wild garlic butter
Baked dough knots topped with mozzarella, garlic butter
Focaccia di Recco col formaggio, stracchino, olive oil dough
Spinach feta börek
homemade filo pastry, onion, garlic, yoghurt, nigella and sesame seeds
Spring onion scones, crispy cheese puddle
Stuffed crust garlic herb bread
Cornbread with halloumi, sun-dried tomatoes, green chilli
Waffled onion and feta bhaji
sauces
aioli garlic mayonnaise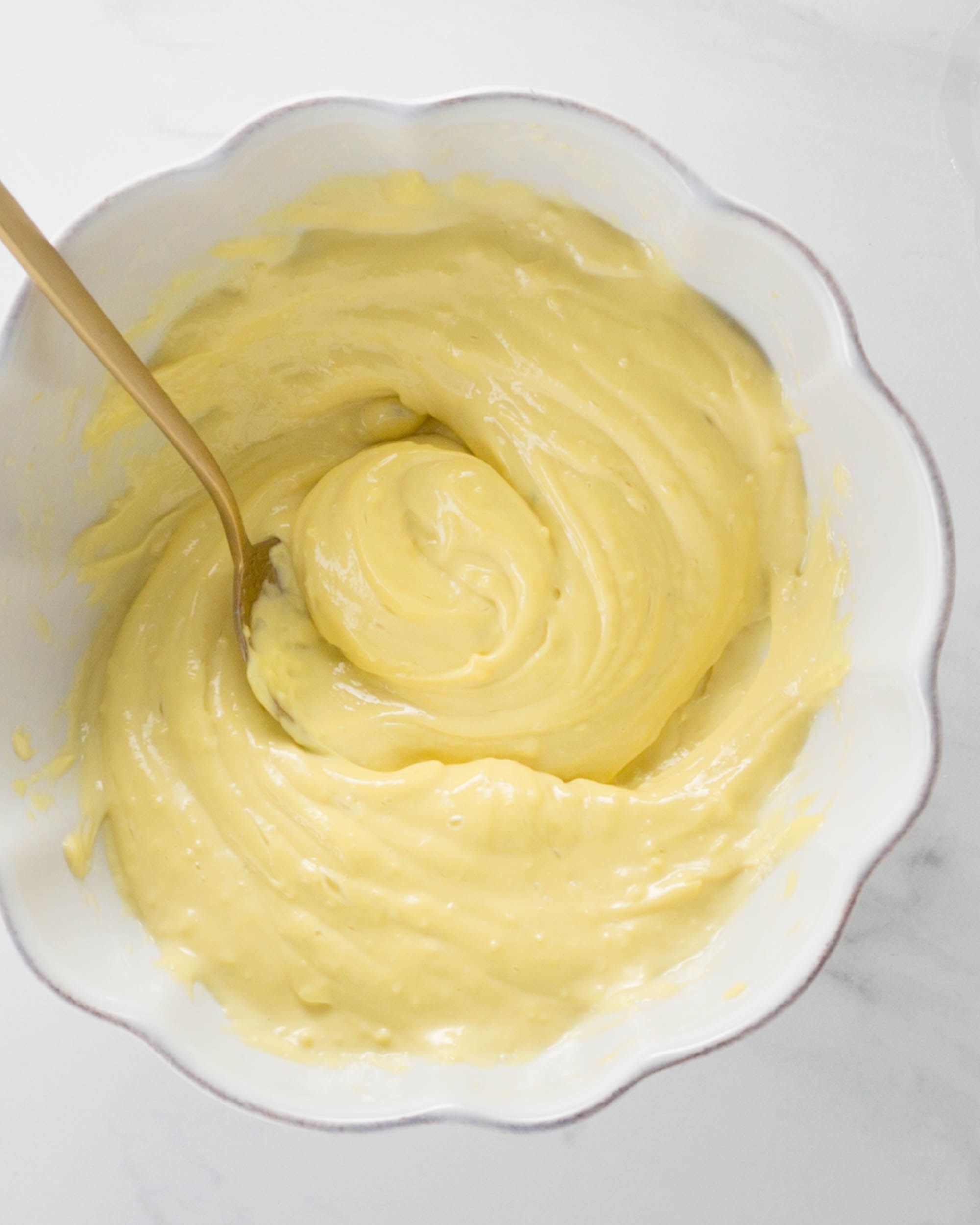 coriander, chilli, garlic and lime butter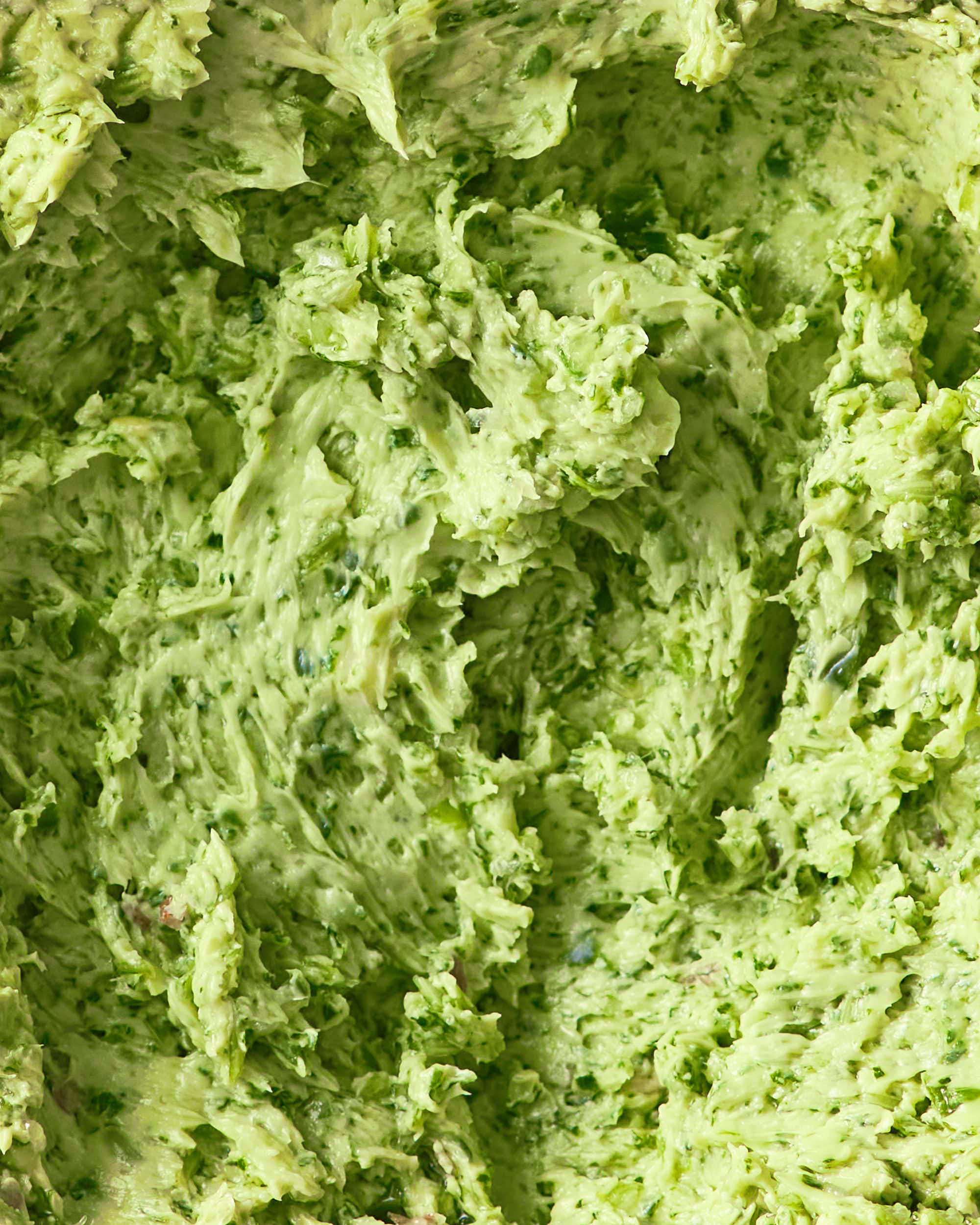 fresh herb pesto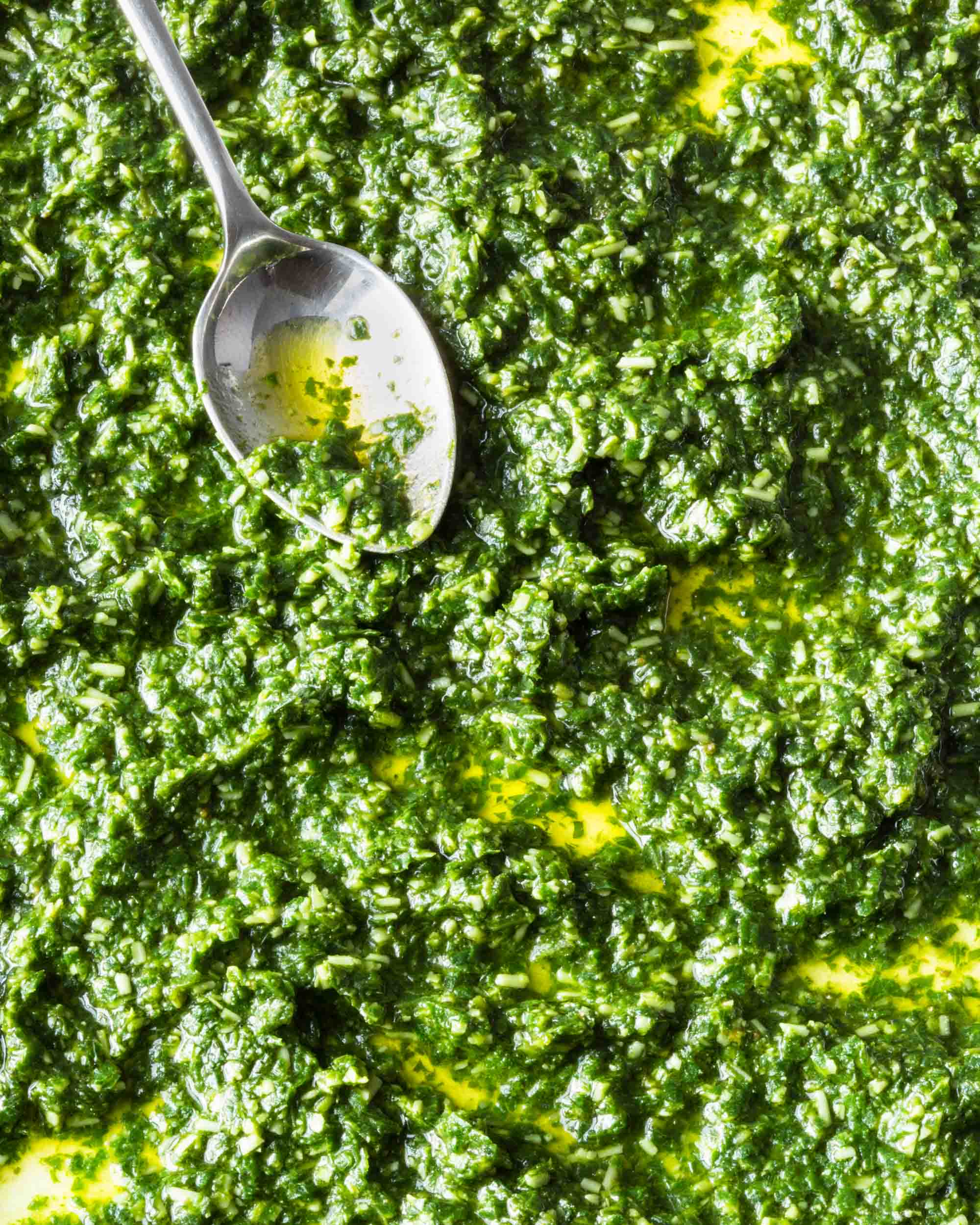 homemade chilli sauce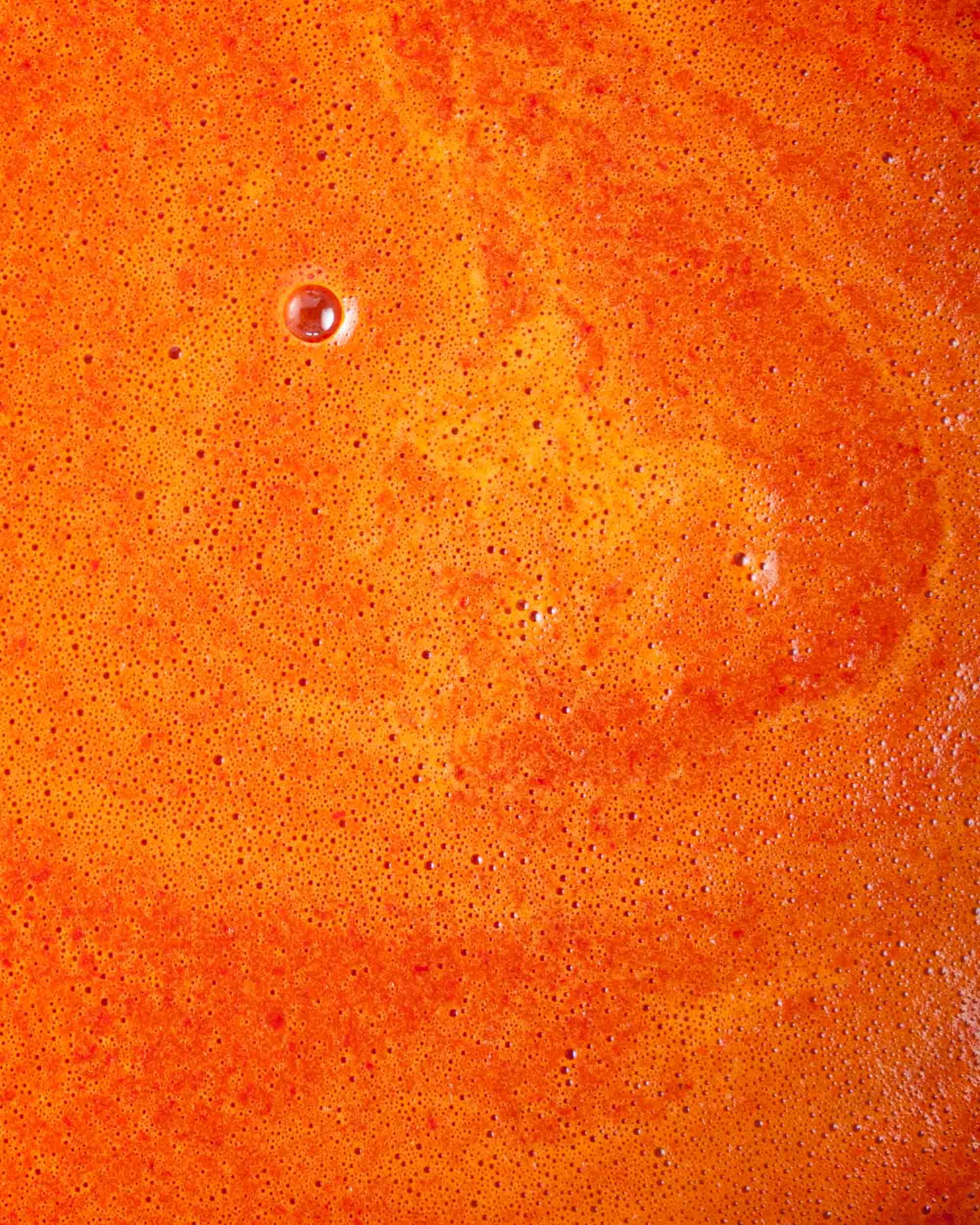 roasted aubergine raita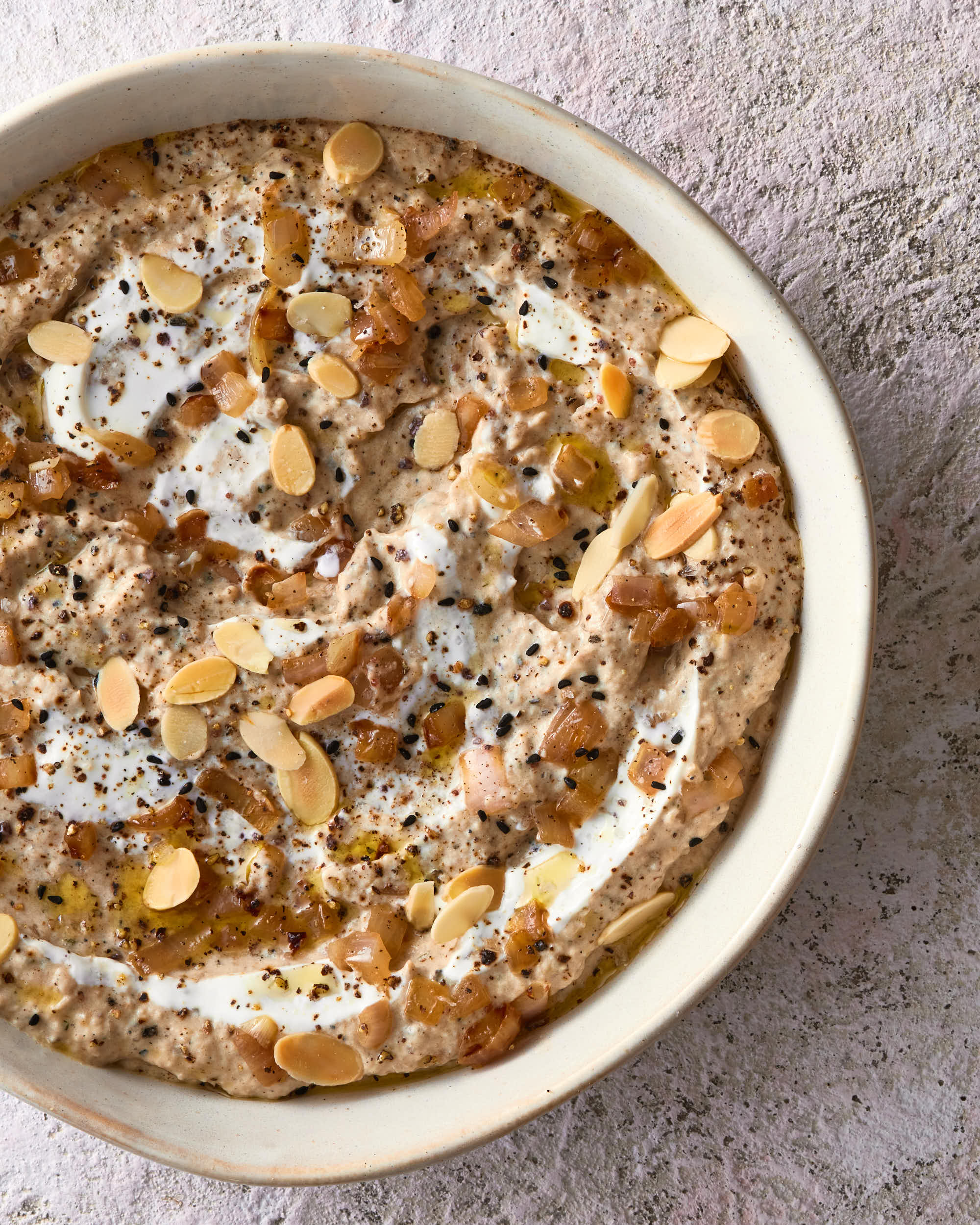 other ideas
Green / black olive tapenade
Chimchurri with parsley, garlic, chilli, lemon, olive oil
Vibrant herb oil
Habanero chilli oil
sprinkles
herb salt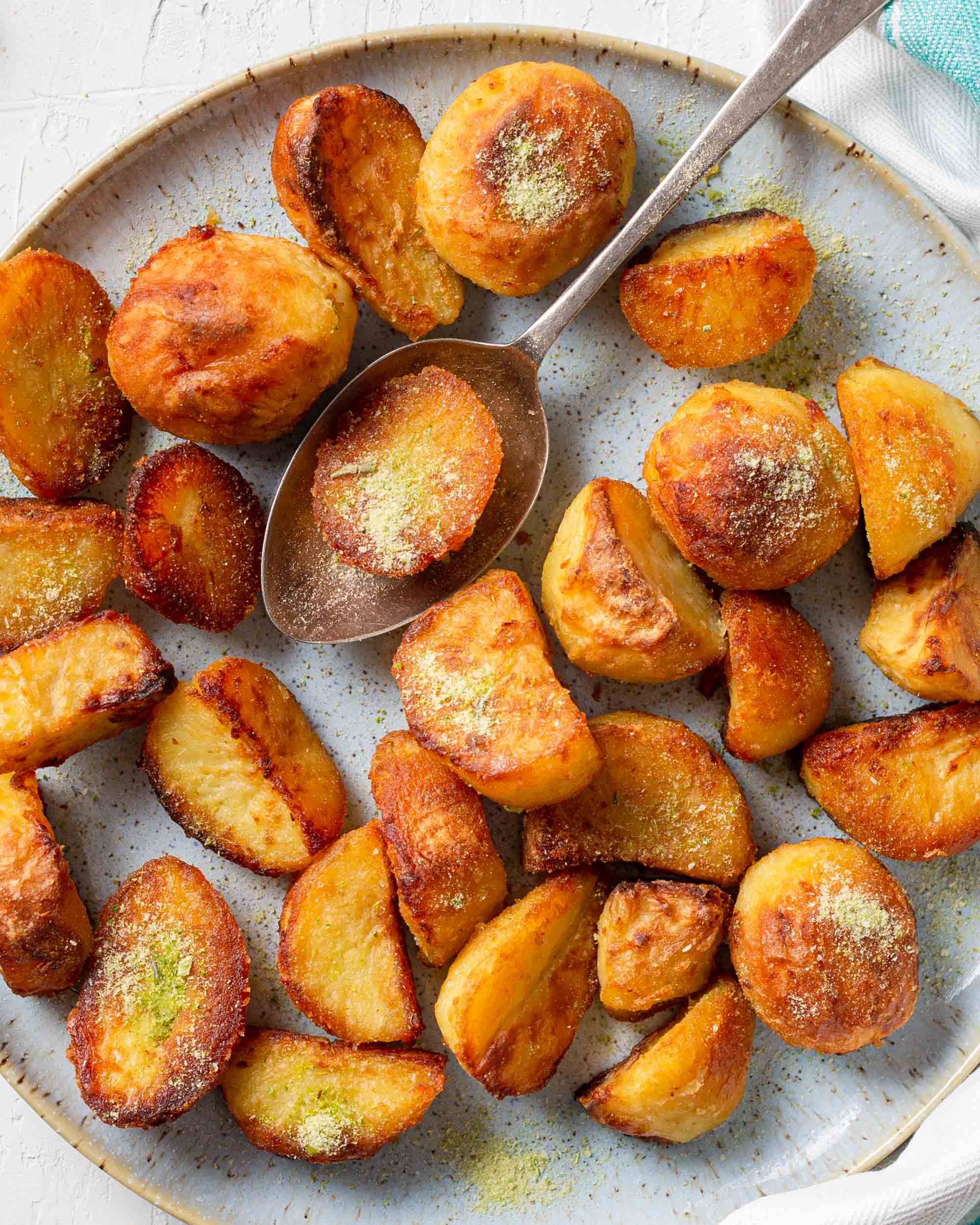 other ideas
Roasted pistachio dukkah
Fresh seasonal herbs
serving ideas
Freshly squeezed orange juice